1 2 3 4 5 6 7 8 9 R H E
- - - - - - - - - - - -
Rockies 0 0 0 1 0 0 0 1 0 2 5 0
Mets 0 0 0 0 0 0 0 0 0 0 7 3
Out-dueled in Game One, Jeff Francis was not to be denied in the decisive Game Five
The once-vaunted offensive juggernaut of the New York Mets is no more.
For the second consecutive game the Mets were shutout by the pitching staff of the wild card Colorado Rockies, an embarassing display at Shea Stadium to cap an early end to a once-promising 2007 season and to fill fans with disillusionment, vitriol and biliary disgust.
Reyes contemplates titles for his new Spanglish Gangsta Rap CD planned with Lastings Milledge this winter
"Willie should be fired,"
one fan spat, exiting Shea Stadium among the thousands of others herded towards the #7 train home.
"Perhaps first he should be disemboweled and THEN he should be fired..."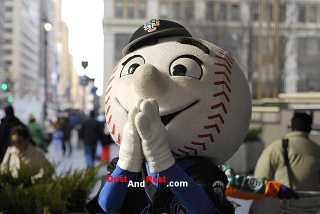 Mr Met Prays For Guillermo Mota Corpses To Fall From The Sky...
Although they managed a total of seven hits; 5 off of Rockie starter
Jeff Francis
over the first 4 1/3 innings, in the 5th inning, already down 1-0 and after singles by
Paul Lo Duca
and
Pedro
were sandwiched around a
Lastings Milledge
sacrifcie to put Mets runners on the corners with only one out and the top of the order coming up, they were quietly put down:
Reyes
, who has a dreadful NLDS, a miserable fielder's choice and
Castillo
ground out to end the threat after Francis was removed.
Mets Good Luck Charm, Art Howe, was in the dugout hoping for Willie's job in the late innings...
Pedro was, as expected, nearly flawless. He finished with one out in the 7th having struck out 6 whilst allowing a lone run and 5 hits. But it wasn't enough given that the Mets bats failed them once again.
"It's going to be a bitter winter because I am going to have to do a lot of work to get ready for a full season of pitching again."
Pedro droned in a quiet and shocked dressing room after the game.
"I made good progress but as a team, we have to consider why we couldn't score in the two most important games of the season. The pain I feel about losing is one of the worst I have felt without any injury in my career."
The Mets nearly opened the scoring in the bottom of the first inning following a pair of two-out singles by
David Wright
and
Carlos Beltran
but
Carlos Delgado
, as he was all season, was found lacking, striking out to end the threat.
Other than the 1st and 5th innings the Mets did not mount a serious attack the rest of the game and fittingly, they went down without a peep, down 2-0 in the bottom of the 9th when Delgado,
Alou
and
Lo Duca
went down in order to end the game and the Mets season.
"It seems hard to believe the season is over already",
David Wright commented quietly in the lockerroom,
"but at least we didn't blow the NL East title..."
Pedro not pleased, but the season is OVER