The Army confesses. You'd think a game starting at a little past one in the morning would be late enough to catch it but frankly, it being Friday night over in this universe, the Army was marching elsewhere so the Friday night game is brought to you courtesy of Saturday morning with a swollen head and a cuppa.
And just to keep the readers guessing, I'm changing the reporting format for Game Two to random notes, even more random than the live notes because I am after all, traveling through time, listening to the past...
The pre-game show finds an ebullient Willie Randolph making jokes like,
"maybe Maine will pitch a 9 inning shutout..."
and for a moment, you get an inside look at a giddy clubhouse.
INNING ONE
John Maine loves to work quickly.
POOOOO-jols. 1-2-3.
Chris Carpenter is a New Englander, big fan of the Patriots. More reason to despise, not to mention, bursitis in the pitching shoulder and the one thing I'm thinking is ALL those people, myself included, who immediately typed after the rain-out, the obvious, the Cards get to use their ace, blablabla.
Reyes, lead off double head-first slide. A buffet of curve balls finally pays off. If Reyes wakes up this postseason we can call the Mets lethal again.
Lo Duca bunting, whew. I'd have rathered he hit away but there you go, I'm not a National League manager. Pound the bitch early is what they say in the back corners of smoky rooms and when the smoke finally clears...
Homer every 6.6 at-bats in the postseason for Beltran.
Carpenter home ERA, 1.81 road ERA 4.70. How's that for a rainout, Tony La Chimp?
Beltran walks and Delgado coming up to give us all a tilted infield to the right side. Delgado led the league in sacrifice flies.
Either this will be a double play or the Mets will crack this Carpenter nut early and sweep.
DELGADO THREE RUN HOMER!!!!! Into the picnic seats, 3-0!!!!
Yeah, rain out, advantage Cardinals. I sniff Tigers.
More balls than strikes, the magical Mr Carpenter is throwing. Bring it on early and bring it on hard, I don't need suspense. Let's have a few more bangers over the wall.
6-7-8 batters a combined 1 for 34 off Carpenter. Another walk, and now here comes that colon of the batting order...
Shawn Green, who bristles at the suggestion of being any part of the colon of the batting order, should just sit and wait for Carpenter to lose his bearings with a 3-0 count, trouble with location.
Green slaps a sure double play grounder but no, Wright avoids the tag and there's a man in scoring position with two outs for Mr Valentin. 0-12 in the post season, 1 for 15 against the Cardinals' Mr Magic. End of inning. 0-13 in the post season. Do I hear a small chant for Anderson Hernandez? Couldn't Anderson Hernandez go 0 for 13 in the postseason equally? Surely he couldn't do worse...
INNING TWO
Maine walks the lead off man for Spiezio, in for Scott Rolen. Rolen trying belatedly to tie Cliff Floyd for fastest trip to the DNP list.
E - for Delgado. So long as it doesn't equal three runs, we're all ahead of the game but if it does, I think he'll have to stand for the 7th inning patriot song.
First and second no outs.
Ball four! Bases loaded, no outs. Nice one, John Maine.
The difference between Carpenter and Maine is that Carpenter will probably settle down after that first inning outburst whereas Maine will likely combust and the bullpen will get overtaxed if he doesn't spin a double play ball right here...
Infield Fly. No should come the DP ball, kid.
Ooops, two-run double for Yaddayadda Molina. 3-2.
Nothing pisses on the march of momentum like your pitcher giving back an early 3-run lead. I'm bordering on disgusted here. I'm forgetting all those 20ish shutout innings Maine once threw this season but hell, maybe that's the fates. Pretty soon we'll be praying for Maine just to get out of the bloody inning.
Called strike three. Promising. Ump's strike zone might be growing. Maine thinks he's getting Glavine's strike zone apparently. Settle down lad, you ent that close to the Hall of Fame. 37 pitches and the 1st inning isn't even over yet. Loooooooong night for the bullpen. Do we really have a rookie pitching Game Two? Wow.
*****Commercial Break*****
Way to almost blow a three-run lead.
Endy Chavez 0 for 11 lifetime v Carpenter.
Fair ball! Stand up double, way to break that streak!
Good bunt by Maine to move Chavez to third, helping his cause.
Jose Reyes is it time to break out for your postseason debutante ball?
Why yes it is, RBI single, 2 for 2 for Reyes, 4-2 Mets!
By god, I think Tony La Russa sure is happy it rained two nights ago.
And here we come to the moment the insider's world has been waiting for:
Reyes v. Yaddayadda Molina on the basepaths
.
Hit and run, all these hours waiting for this moment and well, pffft.
THIRD INNING
Oh how he loved his cup
and now he's dirt
under the pine trees
--Li Po
Well, lulled into a false sense of security, we now hear Jim Edmonds hits a two-run homerun to tie the score, 4-4. And here I was thinking this was going to be it, no problems, Mets walk away with an additional win.
Mr Maine, you are oh so disappointing. Twice you've blown your lead. Why oh why can't you revert back to Mr Consecutive Shutout Inning Streak?
And let me rant a moment please. 61 pitches through three and now walks Spiezio. Is this
really
our number two pitcher now? The rotation is Glavine and the Bullpen? But the rant is about here we were, twice holding leads over the Cardinals ace and twice blowing them. If you lose to the Cards 2-0 with Carpenter pitching, it's understandable almost. But if you lose after Carpenter gives up 4 runs in two innings, you're just playing with fire, pissing in the wind. And after tonight, it's good bye NYC for several more days so this game is pivotal to crushing the Redbird Spirit.
Jaysus. Finally, Cardinals inning over.
Mets half - what's the point of scoring more runs? Maine will just give them back anyway. Maybe if we go scoreless for an inning Maine will rediscover how to pitch. It's all about perspective, baby.
4th walk issued by Chris Carpenter. I'm starting to think all of this cold air I hear has decended upon NYC is causing both pitchers to have subpar sessions.
Valentin up, Valentin down. 0 for 14. C'mon. Willie likes to show confidence in this guy but he didn't even hit his meagre weight in September and he's like, 0 for October - can't Anderson Hernandez do this (going 0 for 14) with a better glove?
FOURTH INNING
Public Service Announcement: Spanish Wine and English Ale Don't Mix Well.
Ok, time to test the theory - Mets don't score, Maine doesn't give up runs. Think he can handle it or will he leap into triple digits for number of pitches and tax the bullpen needlessly
Well, with two outs, he gives up walk number five to move ahead of Carpenter in the Futility Department.
83 pitches thrown with the 4th inning still going. Four innings max from your Game Two starter. To help him on his way, Paul Lo Duca throws the ball away trying to throw out David Eckstein stealing. The walked batter is now on third. Still better than watching Piazza two-hop his throws to second base.
Woa! John Maine strikes the batter out and YES! the theory works. If the Mets don't score, John Maine doesn't surrender runs. Still a tie game, 4-4.
*****
I think John Maine should have a new nickname - remember Molly Hatchet,
Flirtin With Disaster?
That's Mr Maine.
Molly Hatchet Maine
. Apropos, lads. I think I'll suggest it the next time he's doing one of those internet write-in interviews.
Anyway, he's being pinch hit for so that's it for him. 4 stinkin' innings and 4 stinkin' runs. 9.00 ERA. Brilliant.
Chad Bradford loosening up in the pen. Feliciano will probably follow. The rest of the game the question will be Who Will Pitch To Pujols?
Michael Tucker takes one on the knee, the 12th batter Carpenter has hit this season. Not surprisingly, Reyes' DP grounder is beaten out by Reyes. Reyes on against Yaddayadda Molina again. I have the feeling this is an overrated matchup. Not a key to the series, just overhyped. LoDuca grounds out, no runs no hits one man left.
FIFTH INNING
Commerical Break: No More Blood For Oil:
Pujols to lead off the inning. And isn't this like eating refried beans and waiting to fart? Pujols has been on the verge of breaking out for the last 13 innings.
Pujols had the cheek to
diss Tom Glavine
last night:
The Cardinals' slugger, who went 0-for-3 with a walk, flipped his chair into the leg of a reporter gathered at his locker, turned his back, dressed slowly and then faced the media with obvious reluctance.

Asked about the effectiveness of Mets starter Tom Glavine, Pujols, who lined out twice, said, "He wasn't good. I thought we hit the ball hard but we didn't get any breaks."
Pujols 0 for his last 12. And this is what we like about the Cardinals. NOTHING. The manager is a cunt and the star is a sore loser. And the beer, ladies and gentlemen, let me let you in on a secret, the beer in St Louis TASTES LIKE SHITE. So I'll leave it to the tragically few literate St Louis natives who might happen across this blog - tell me something good about St Louis. Impossible request? Why don't we ask Mr All-American Steroid, Mark McGwire?
Bradford gets the Cards in order.
And here we can begin to feel good. Cardinals' ace starting and the game is still tied and there's little left but the battle of the bullpens.
I predict Carpenter won't last this inning.
*****
HOMER, CARLOS DELGADO, THE OTHER WAY!
5-4 Mets lead and fer feck's sake if he ent havin himself a Carlos Beltranish postseason in his first postseason ever!
David Wright beats out the throw, La Russa comes out to piss-n-moan. Wear are the kids at Shea with the batteries? The size D batteries with LaRussa's head as the target? Error against Ronnie Belliard says the official scorer.
Carpenter has allegedly only thrown 83 pitches so far. I find this very difficult to believe. Maine had thrown 83 pitches before he even had the first out...
But let him keep pitching, Shawn Green singles sharply to right. Jose O for Post Season Valentin coming up.
PINCH HITTER ANYONE??!!!
Well, I guess Willie's playing the odds that Valentin won't go hitless for another week. Some day he'll have a hit and hopefully, it will happen when it matters. Valentin once smashed Carpenter's face with a line drive. His only hit off of Carpenter. 18 stitches inside Carpenter's mouth. Make it count.
But not this time. Fly out, 0 for 15.
Still, Mets 5 Cardinals 4.
SIXTH INNING
Public Service Announcement: Pre Marital Sex and The Bible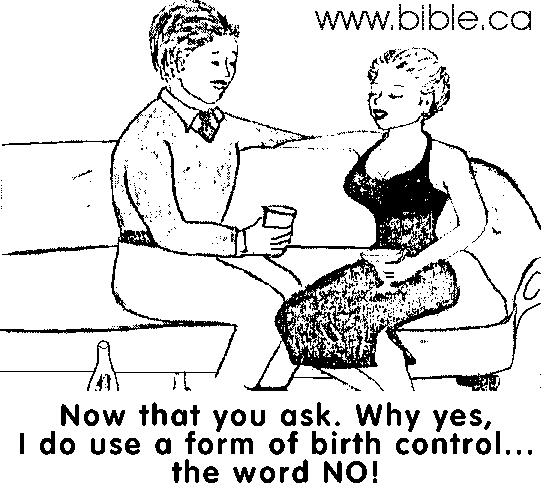 I like this. What about the Immaculate Conception? How do you prevent that?
Bradford 79 mph sinker strikes out Cardinals clean up hitter. Chad Bradford. What a name. Brad Chadford. Ford Bradchad.
Two outs, he gives up a single to Yaddayadda Molina. 0-2 fastball through the hole and into left. And Carpenter's being pinch hit for. Time to sink our teeth into that shite Cardinal bullpen. And the pinch hitters are caught completely unaware. You see? This is the Cardinals problem, pinch hitter can't find his bloody batting helmet. Bradford is so disgusted, he's being pulled from the game by Willie in favour of Feliciano.
COMMERCIAL BREAK
And a good one, at that...
Johnny Rodriguez pinchitting against Pedro Feliciano, nothing doing. Cardinals are done for another inning. Johnny Rodriguez indeed, what kind of name is that? At least the name Pedro Feliciano seems to sing. Johnny Rodriguez, do you know where your mother is?
*****
Bottom of the Frame.
Anderson Hernandez getting his first at-bat of the postseason pinch hitting for Pedro...Hancock pitching for Cardinals. Couldn't keep himself in shape, 20-40 pounds too heavy for the Red Sox who let him go. Too fat. I never thought that could keep a relief pitcher from being effective. Or a starter, for that matter. Baseball is pretty much the only major sport where you can get away with being fat and out of shape. That and snooker.
Ok, Anderson Hernandez proves he can be as ineffective as Jose Valentin if he wants, one out.
Reyes is on for the third time tonight. Once again we can breathlessly await the long awaited
Yaddayadda Molina v Reyes
on the bathpaths and if something doesn't happen this time, I think every writer who wrote this was a key to the series should be taken out into the street and shot, point blank, in the head. How's that for Russian justice?
Base hit for LoDuca! Reyes waved around third, scores standing up, RBI double for LoDuca and now it's 6-4 Mets!
The fat feck, Hancock is ineffective. Shocking. The Cardinals bullpen wilting under the pressure of the Mets' batting order. Whuddathunkit?
Beltran out on a sharp play by Belliard. Delgado up once again. How about another two run homer to put this game to rest?
Belliard again. Throws out Delgado to end the inning.
Commercial Break:
There are worse things than dying - You could be Tony La Russa's wife.
SEVENTH INNING
Guillermo Mota coming in.
He's appeared in so many post season games for the Mets I'm almost starting not to think of him and Mike Piazza every time I hear his name any more. When that happens, he will finally be a Met in my mind. As if it matters. I'm sure his thank you note is in the post.
56,000+ people on their feet. They must be cold. Tolstoy cold. So cold Pujols finally gets a hit, albeit a single.
3 balls and 0 strikes on Jim Edmonds. Pujols on first. Ball four. Two outs and now two men on. I think Mota's had it already. Bring Heilman in for crissakes. Oh no, he's convinced Willie he's good to go. Let's see if he was lying.
Scott Spiezio, two strikes, one hard foul and now LoDuca walks out to have a chat with Mota. Heilman is ready in the bullpen but Willie's letting Mota go do or die...
Shawn Green leaps, off his glove.
Tie fucking game. Thank you Willie for leaving Mota in too long. Can you break up with him already you love sick little bastid?
And the little monkey LaRussa comes in to whinge about the ball going over the fence.
Now the CHUMPires are going to confer.
Sweet jesus, we're going to leave it down to human error are we?
Huddled together between first and second base. Mota wandering around aimlessly. If I had TV, I'd see it but no, the radio I have to leave it to the WFAN announcers to tell it. According to them, no way the ball went over the fence, hit something and came back behind the fence.
Two run triple, no homer and the cunt LaRussa is coming out again to whinge some more. D-sized batteries? What a great promotion at Shea for Game Six. Tony LaRussa D-sized battery night.
NOW Willie takes Mota out. Way to manage that bullpen. Good thing you listened to Mota tell you he was still ok to pitch. What was that, your Grady Little impression?
COMMERCIAL BREAK:
Thanks, Guillermo.
...Heilman gets the last out. Two two run leads blown. Not a good omen. I'm feeling a little doomish at the minute.
Mets have left runners on in EVERY INNING.
Hey,
Congratulations Jose Valentin, first hit of the post season!
Willie's got the bullpen up again, this time Hernandez. What, you wouldn't let Heilman hit for himself? Remember Game One against the Dodgers when you let GUILLERMO LOVER BOY MOTA hit with the bases full? Remember that?
I'll tell you - Chavez is out by the way, inning over, I'm not looking forward to the 8th inning with Roberto Hernandez coming in.
Commercial break -
This time, I'm going with the real one on WFAN because I've heard about
Christo's Steak House
so many fucking times already I'm starting to get hungry. It must work, this bashing you over the head with the same idea. I bet the steaks taste like shit, otherwise they wouldn't have to advertise. Or maybe
my favourite steakhouse
in NYC doesn't want Mets fans sullying their cool surroundings. They probably do ads on the Yankees broadcasts.
EIGHTH INNING
Thank god, Heilman is still in there.
Mounted police on hand at Shea tonight.
Yaddayadda Molina is hitting like .600 in the postseason, isn't he? Another hit. 3 for 4.
Heilman rubs up a fresh baseball.
6-6 one out, top of the 8th.
Preston Wilson at the plate.
Swing and a miss on a changeup! Wilson's bread and butter, the swing and the miss. How many Ks did he have this season? 121? Guess Mookie won't be getting any batting coach jobs any time soon.
Heilman rubbing the ball some more, blowing on his hands...
AND I LOSE THE GODDAMNED TRANSMISSION!
Ok, it's back on just in time for Heilman's wild pitch that moves Molina into scoring position. Nice one.
Not a good sign that Eckstein has fouled off so many pitches.
A good, tight game nonetheless. Heilman has thrown 32 pitches, most of them to Eckstein and...side retired! Whew!
*****
Bottom of the 8th.
We'll start off with a pinch hitter for Heilman and then top of the order. It isn't now or never but hell, Josh Kinney is out of the bullpen for the Cardinals. A right hander. His first year pitching in the bigs.
Julio Franco batting for Heilman. Only Billy Wagner warming up in the pen. Franco hitting over .300 against righties this season.
LaRussa's holding up the game to make a last-minute substitution. So Taguchi coming into left field for Duncan. He couldn't have figured this out BEFORE the bloody bottom half of the inning started? Twat.
Franco strikes out.
Let's see a bunt single from Reyes here...
Nope, base hit into center instead. His third hit of the game. Reyes is starting to get hot, hoo haa! Fourth time on base and I'm not going to bother with that rubbish about Molina v Reyes so there'll probably be a steal attempt now, get him in scoring position.
2 balls no strikes on LoDuca. Let him blast a fastball down the middle.
Nope, slider high, ball three. I'd still let him hit away but it's not typical baseball philosophy. Ball four!
And here comes Beltran! Two men on, one out.
Will the lefty come in from the pen now?
Beltran hit 41 points higher against righties during the regular season.
Nope, the kid is going to pitch to Beltran with the deadly Delgado on deck.
Double play. LaRussa takes a chance and wins. Another rally snuffed. If they don't win this game, the Mets can blame the number of runners left on base. Every inning they've left a man on base.
Commercial break:
Mets need runs...
NINTH INNING
Billy Wagner in to pitch the 9th. 6th pitcher used by the Mets.
SO TAGUCHI HITS A HOMER TO SILENCE SHEA
7-6 St Louis.
Ouch. This sucks.
I think given Wagner's heavy southern twang they should play the theme from Deliverance instead of Metallica's song when he enters the game.
Pujols singles, no, he turns it into a double.
Time to think about pulling Wagner at this point so he won't throw a trillion pitches in a losing effort with another game coming up on no rest...
Is that overreactive?
I dunno if I care now. Even if the Mets come back to tie, who would pitch the 10th?
But hey, maybe Braden Looper will come in to pitch the 9th.
Spiezio RBI double. Billy Wagner, where the fuck are you?
8-6, Cardinals. Four men up, three hits.
Yeah, let's have Billy Wagner pitch all night. 20 pitches already and only one out. C'mon dickheads, get him out of there.
Another fucking hit. RBI single for Encarnacion, 9-6 Cardinals.
And now Billy Wagner is going to be toast for Saturday night.
Very, very bad omens for the rest of this series.
Now Willie comes out to remove Wagner. I guess Roberto Hernandez had to get warm first. What difference does it make? Oh, this does suck indeed.
No good starters left, star closer blows a game and won't be available for Game Three. Bullpen overtaxed already two games into series. Cardinals ace gets smacked around and the Mets still don't win?
The side is finally, mercifully retired. Bottom of the 9th coming up.
*****
Lefty Tyler Johnson pitching for the Cards.
Delgado up.
No Braden Looper on the horizan to save us.
Delgado down on strikes, LaRussa brings in closer, Adam Wainwright.
I'm tempted to stop listening now, this is just masochistic.
What can you do, really? Closer blows the game, you leave a shite load of runners on base, you blow the lead what, three or four times in one game? You lose at home, you lose your advantage, you've got crap for starting pitchers for two of three games on the road, etc. If Carpenter had pitched a brilliant game and the Mets lost you could just shrug but losing this way is demoralising. This was a game the Mets should have won and I fear they are going to pay for blowing it. Ultimately, we can thank Willie's love affair with Guillermo Mota.
Rolen makes a great dive and the Mets are down to their last out.
And that's it, lads.
Mets lose and the series is even.
Two things before I go:
One, a head's up for
Its Mets For Me
, loyal readership should not go unrewarded.
And lastly, just to wash away the bile, a few fit birds to send you on your way to St Louis: