Not long after having traded two prospects to the Marlins for first base slugger Carlos Delgado, the Mets announced the purging of two more prospects to the Marlins, this time for Mike Piazza Lite.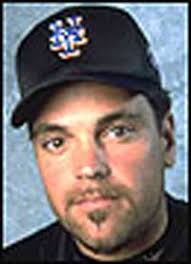 On its face this Piazza Redux smells like a snoutful of desperation with no sign yet pointing as to what the desperation was based on.
Granted, Gabby Hernandez is no Scott Kazmir, nor is he even Yusmeiro Petit, just a single A pitcher who looked spectacular for Hagerstown and abysmal for Port St Lucie in the Florida State League last season. He could go either way.
However, with two free agent catchers available on the market, two free agent catchers we might add who would have cost
zero
prospects in return, Omar opted to give away two more young pitching prospects in return for a 33 year old catcher who quite likely has already seen his better days both at and behind the plate whilst plying his trade for the Dodgers a few years ago.
In case we'd forgotten, 33 is not exactly the optimal age for catchers. Bengie Molina is 31, a two time Gold Glove catcher and costs nothing but money. Ramon Hernandez, a 29 year old catcher with a golden arm and a big bat. LoDuca of course, rapidly ageing, declining power skills, so-so batting average and a rather poor caught-stealing percentage, (runners made it safely 89 out of 118 attempts against LoDuca.)
LoDuca will not bring back horrific vision's of Mike Piazza's two hop throws to second but with those two free agents lurking in the background and LoDuca's somewhat pricey future (a cool $13 million over two years) combined with his age, declining offensive skills and less-than Molina/Hernandez-type arms, one cannot help but wonder what Omar was getting so desperate about.
It made sense to offer the farm to Wagner after BJ Ryan's signing. Wagner was a do-or-die signing. It also made sense to trade for Delgado, even at the price he came for as a power-hitting first baseman was an offseason priority.
But Paul LoDuca, the reincarnation of Mike Piazza Lite, is no bargain and this trade is a little less than understandable. We will await further clarification from guru Omar - the extra savings on LoDuca for a star starter?
Please just not Fat Manny and his traveling circus of headaches and primadonisms.