Well, we didn't land Barry Zito and thank christ, no more movement towards Manny Ramirez. We didn't trade for Javier Vasquez nor did we dump Mrs Kris Benson in some fundamentalist outpost in Kansas. We didn't beef up our bullpen and we didn't solve the question of our starting second baseman.
However, we did land
Jose Valentin
, a .170 hitter for the Dodgers last season with a torn ligament in his right knee. Valentin can play third, second, short and in the outfield.
Here he is laughing it up with Steroidose Canseco as Jose passes Jose the syringe all clandestine-like.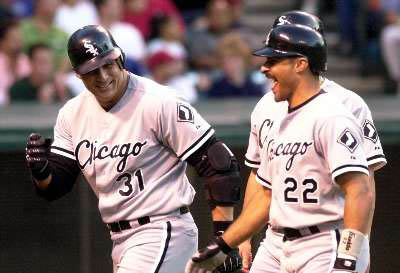 And if that isn't enough to set your heart a-pitter-patter, they then revealed that they're
closing in on
the amaranthine wonder, Julio Franco.
(Here he is, back in the day when men were men and they didn't need little girly things like fielding gloves to catch baseballs)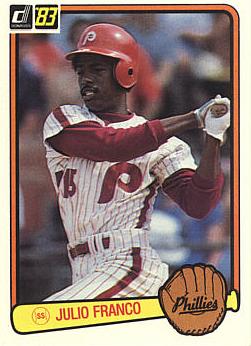 *****
What does it all mean? Disaster for the Mets? Hardly, just busy hands with nothing meaningful to do.
On the other hand, you've got Willie Randolph trying to save his job before Spring Training even starts, making excuses before the first injury is announced, trying desperately to pace the expectations of the now-rabid Mets fan who will crave and accept nothing less than the dethroning of the Braves after 14 years in the NL East.
Willie brings to mind the fact that, as pointed out
here
, in many ways the Mets' situation is similar to where the Phillies were coming into the 2004 season, after picking up Wagner and Eric Milton 1 year after adding Jim Thome, David Bell and Kevin Millwood.
That increased the payroll to around $95 million. What it didn't do was result in a world championship. Or even a trip to the playoffs.
Makes you wonder what it is we're all wondering about and how Jose Valentin fits in.