Five months after disc herniation and back surgery, not having pitched in the Majors in nearly 11 months and having seen limited rehab duty in the minors, no one was quite sure what to expect from Steve Trachsel on Friday night when he faced the Giants.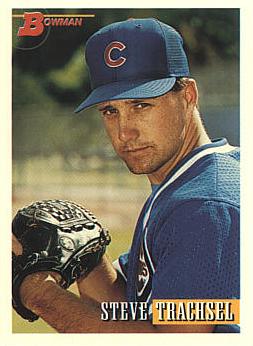 Steve Trachsel
1993 Bowman #172
Rookie Card
There is little doubt however that many would have expected eight innings of two-hit shutout pitching, including 5 2/3 no-hitting innings to start the game, Trachsel's reentry into the Mets starting rotation. And after the 1-0 win, their fifth win in a row on the road, now a mere four games behind the Atlanta Braves and one and a half behind the Phillies for the NL Wildcard, it might be officially whispered that the Mets are running the table in a way they've been waiting for all season long.
"He made tons of big pitches,"
Giants manager Felipe Alou said of Trachsel's debut.
"It is hard to believe that a guy making his first start would be so sharp. You do not find a guy throwing eight innings on his first start."
It was a good thing Trachsel made certain that David Wright's monster blast in the 2nd inning and the 1-0 lead stood up throughout the course of the game because the Mets were only able to muster seven hits off Kevin Correia. But Trachsel held out for eight innings, the eighth being the scariest when he retired Randy Winn with runners on first and third and two outs on a fly ball to center on his 108th pitch of the night and everyone listening was busy second-guessing Manager Willie for leaving Trachsel in too long.
That was before Bradon Looper was given another chance to put our hearts in our mouths with yet another hysterical, scattershot performance that saw a lead off 9th inning double by Omar Vizquel before three consecutive groundouts to finally finish the game off.
What we've got now is a real battle on our hands, a real dilemma for the coaching staff and by far the deepest rotation in baseball.
No one really knows how this calculus will settle in the end. They now have six capable starters. Both Trachsel and Zambrano are uncertain yet occasionally brilliant fifth starters or bullpen fodder. Seo has risen from the ashes to put on pitching clinic after pitching clinic. Glavine has found his brilliance of old in the strike zone with only 4 walks in his last 7 starts and 11 starts with at least six plus innings allowing three runs or less. Benson, rested for a game before he will return in the finale against the Giants on Sunday, should return to the form he has held all season and Pedro, dear Pedro, will be watched in every drop of sports page ink for signs of fatigue.
The bullpen, a house of cards with every night a potentially spectacular implosion, is still the Achilles heel of the team. With no lefties in the pen, in a unique twist, the Mets will use righties with a good record pitching against lefties instead of traditional lefty on lefty matchups late in games.
*****
Today, Glavine will face Giants' traditional ace Jason Schmidt as the Mets attempt to twist another victory out of this thus far, perfect road trip.
*****
This victory, coupled with the Brewers' defeat of the Braves, has tightened the NL East race further still. The Phillies gave another kick to the Diamondbacks, 11-3 whilst the Nats, Marlins and Astros all won to keep the NL Wildcard race a complete toss up.