Yes, we know, it wasn't his first start back from rehab.
But whose not excited by now, back-to-back starts, the second more fluid and seemingly flawless than the first?
Five innings pitched, the count up to 92 and counting...well tomorrow, or the day after will be the test, as it will be for every start Pedro takes for the rest of the season still, impressive, even against the likes of the lowly Astros.
Even at the plate, following a double, Pedro is miraculous...
But rejoice for a minute anyway! Pedro's second victory in as many starts bodes well for the Mets postseason hopes, especially on the heels of
Tom Glavine's
nearly perfect start on Saturday, shutting them down for seven innings, another victory over the hopeless Astros, a sweep completed.
5 shutout innings and this wasn't some Single A debut, this was a Major League team after all, even if was only the Astros.
How many did those Astros leave on base against Pedro? Every time they seemed ready to rally, they sputtered and faded, the last in the 5th when following Berkman's double they had Biggio on 3rd with only 1 out and failed to score, or even that one walk later with the bases loaded and two outs, Pedro's tiring arm dropping still getting that last Astro out to end the inning, end the outing and lead more hope to the resurgence.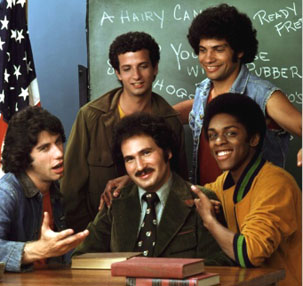 Things were so garddamned giddy in the broadcast booth, the overkill of Cohen, Darling and Keef overflowed with
Welcome Back Kotter
jokes, the trio of muppets distracted by their joy into running through the rollcall of nicknames and expressions.
And all this without two Mets at the corners.
Delgado
still nursing his final injury of the season, getting his last bit of R&R before the postseason and
Wright
getting a rare day off, the Mets started
Shawn Green
and
Ruben Gotay
at the corners instead. And how sweet was it to spy
Endy Chavez
manning right field?
Not only are the Mets loaded, but they are deep. Everywhere.
Aye, but the bullpen. That debacle in Philly is still etched in the mind and nightmare scenarios won't go away any time soon.
Still, with the Braves and the Phillies coming to Shea next this may be just the time for the Mets to begin their emphatic roll for the rest of the season, the beginning of the jets kicking in (not getting their heads kicked in by the bloody Pats, ugh, o miseria!)
Ok, there's one worry that isn't bullpen related - the yips
Jose Reyes
is experiencing at the plate of late.
Is this a new pattern setting in or merely a lull, the quiet before the postseason strom when nobody can keep Jose off the bases, stealing second and getting driven in by
Castillo
all October?