One game is just that, one game.
Often a good performance in the Mets catalogue of seasonal performances is followed by an equally bad one. That is their M.O. (in addition to choking and failing in the clutch generally,) inconsistency.
So while I won't fall all over myself with praise for what was perhaps one of the more promising performances of this young season, one simple 7-4 victory over the hated Phillies in Philadephia is not going to erase much of the growing scepticism about this team.
Omar: I know NuhZink!
I thought more significant was
Omar Minaya
opening up with some
honest words
about the team he constructed:
"We have good guys, solid professionals," Minaya told Fox on Thursday. "There is a smile on David Wright's face, a smile on Jose Reyes' face. But there is not an edge to them. Some people see edge as leadership. Sometimes you need a little meanness to your game.

"Some people perceive leadership as meanness. I couldn't tell you that we have that type of guy. We have leaders. But everyone's perception of leadership is different."
Of course, he didn't stick by these words. After all, even though the two examples he provided weren't players he acquired this is in essence, HIS team, his faulty construction of smiling faces hiding what has been evidenced for two years running as a team built on charm rather than grit.
But the fact that he would even say the words, single out the golden boys of the franchise, The Core, is evidence enough that everyone is fully aware of just how sick and tired Mets fans are of being baseball's laughingstocks.
So yes, redemption for one night and let's enjoy it.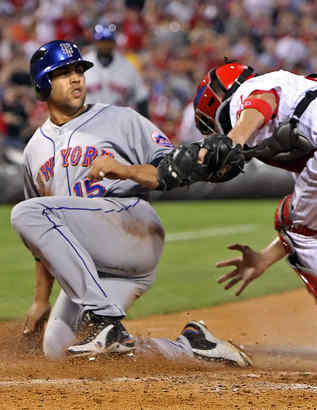 Wooooo! This is so fun I might try it again
I mean it isn't every day that
Carlos Beltran
slides and gets his pants dirty, is it?
And no, the Mets haven't changed their colours in winning - they still failed to score a single run to pad their lead after the 5th inning and whilst they almost lost their 5 run lead entirely, for one night anyway, the lead didn't disappear entirely and they managed to outlast even this Phillies team, famous for their come-from-behind victories which in and of itself is a victory albeit a minimal one, for the Mets.
After all, if you look at what Lennon wrote the other day about the
Mets lacking heart
you see the stunning yet hardly surprising point:
Often, it's hard to pin down the intangibles with numbers, but not in this case. With Wednesday's loss to the Marlins, the Mets (9-12) stumbled to 1-10 when trailing after six innings. After seven, they are 0-11.

As for the Phillies, they have come from behind in nine of their 11 wins and are 5-6 when down after six innings. They also were the best in the majors after the sixth inning with 56 runs, a .320 batting average and 15 homers before Wednesday's loss to the Nationals.
*****
Still, a nice timely homer early from
The Magical Murph
who continues to let his hitting drown out the howls of protest of his glove, combined with the appearance of
Chan Ho Park
as the Philly's starter should have guaranteed the Mets victory despite
Big Pelf's
0-8 lifetime record in May before last night.
******
I can tell you something I would almost guarantee: unless there is a serious problem with Ollie other than his mental weakness and lack of focus, I mean a physical problem, you can be sure he is going to be masterful this afternoon.
You know why? Not because he's a
Philly Killah
, which he has been, but because after all these rubbish starts, these horrific, embarrassing outings, just when the Mets are sick to death of him and ready to send him on the next slow bus to Buffalo, of course he's going to pull a gem out of his arse and postpone for another season his ultimate destination to doom.
I mean, isn't that how it works? Pitch badly enough that everyone wants you dead and then just before you get your final cigarette and you're standing in front of the firing squad, like magic, you remember how to focus and pitch properly.
That's Ollie. Pitching just enough to avoid demotion.
But if it nets the Mets a second victory, eff it. I'm all for it. Go Ollie, go.