I have to wonder if
Jerry Manuel's
as desperate and as crazy as he sometimes acts.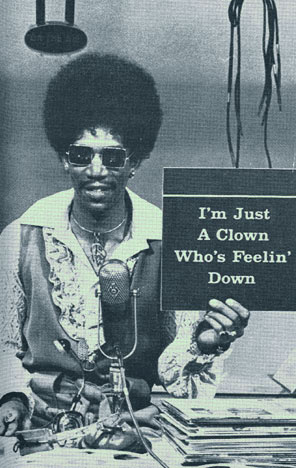 Jerry reverts back to his early career playing Easy Reader on Electric Company...or was that Morgan Freeman?
Yes, easily and predictably you could blame
Duaner Sanchez
for allowing a game-tying homer or even
Aaron Heilman
for walking home the winning run but at the end of the day, I see one of those big foam fingers pointing at the Mets' fearless interim manager.
I mean, good christ, the bullpen isn't bad enough already, doesn't have enough pressure, isn't already consumed with the failure facing them on a daily basis that you've got to have the manager INTENTIONALLY walking the bases loaded? That's not Russian Roulette relief mate, that's a bloody firing squad.
Will the men in the little white suits be coming to take Jerry away?
And to think he was crazy enough to intentionally walk the bases loaded in the bottom of the 9th and a one run lead with Aaron Heilman on the mound. HEILMAN, for crissakes. You might as well have called the boys in from the field and taken an early shower, surrendering before the Marlins could have the satisfaction of actually beating you.
And if that isn't bad enough, just consider this isn't the first time Manuel has done this in the last week. Oh no, he loves this little manoeuvre. On Tuesday night he did the same thing for
Scott Schoeneweiss
last Tuesday to blow the game in the 13th against the Phillies, which is almost as crazy as doing it to Heilman. For an encore he's going to trade for
Kenny Rogers
just so he can load the bases against the Phillies next weekend and walk in the winning run, bring back all those tender memories from 1999.
"As a pitcher, I don't think we want to intentionally walk anybody."
Heilman said after the game. As manager though, dealing with an erratic bullpen and trying to win, apparently all sane thinking goes out the window. The relievers don't put enough men on base, don't let enough runs score on their own. They need Jerry Manuel's assistance apparently.
But anway, we weren't seriously going to sweep the Marlins in Florida in this series. Especially after Friday night's escape. The Mets are lucky not to have lost both games. But as loseable as the game apparently won so was it equally winnable.
Manual would have welcomed a third straight complete game from Mike Pelfrey and after five innings, he was probably even money to do so, with only 75 pitches and trepid 3-0 lead. But Pelf ran into a little trouble in the 6th so by the time he was reluctantly removed in the 7th with two out he'd rung up 117 pitches. Too much to ask, no doubt. Besides, it was evident he was wilting and if you're going to intentionally walk the bases full with Heilman on the mound, no use wasting any more energy in Pelfrey's arm.
Maybe next time Pelf should aim for Ross' head.
Pelf also caused a little chaos by plunking
Cody Ross
in the 2nd inning. Ross had been hit by Pelf before and made a little episode of it so presumably, Pelf was showing him who was boss out there. The benches emptied and oddly enough, there was
Oliver Perez
getting in the mix looking ready to cut a Marlin if necessary. This put the Marlins' little bitch brigade of
Tommy Hutton
and
Rich "Super Douche" Waltz
into a self-righteous tizzy about pitchers who aren't in the game coming off the bench in bench-clearing disputes punctuated by Waltz, who must be in the running for most annoying runt-like impersonation of
Joe Super Duper Douche Buck
, opining that Perez "had his chance" last night when he was pitching. To do what exactly? Bean the Marlins one by one? Run off the bench and on to the field? Run up into the announcers booth and bury Waltz with a haymaker? Idiot. Waltz should have his mouth cauterised to prevent his stupidity from spreading to the public like an airbourne virus.
The best part of course, was that Pelf picked Ross off first right after that. Nyaaah.
In any event, other than the intitial outbut, in very typical fashion, the Mets batting order flailed miserably and after the fifth is was simple a matter of time, a waiting game, for the Marlins to post the winning run. That's what happens when you stop
trying
scoring.
Today is the final day of August before the dreaded anniversary of last September's collapse. August, which started with a three game sweep by the Astros in Houston, will see the Mets off with at least a share of first place in the NL East and perhaps as much as a two-game lead.