What was it Hall of Fame Cubbie
Ernie Banks
used to say?
Let's play two
...?
Yeah, let's play 162.
Against the Cubs.
Me so hoooorny...
After taking three of four from them, two of which were last at-bat sort of thrillers led by
Carlos Delgado
, the Mets have proven what
Lou Piniella
, the Cubs Nation and the rest of baseball already knew. The Cubs bullpen sucks. Maybe even worse than the Phillies' bullpen. That's like being blind AND having polio.
Ok, they managed to hold that 10-1 lead the other night, sure.
But a 5-run 9th on Thursday night gave the Mets an 8-batter rally and emotional 6-5 victory, redeemed Carlos Delgado's day and blasted the Mets to a 1 1/2 game lead over the
Braves
in the NL East.
*****
You have to admit, it was exciting.
Ryan Dempster
was the sacrificial goat last night, entering the 9th for the Cubs with a seemingly sufficient 5-1 lead to earn a split in this four game series.
David Newhan
, the first batter up, singled.
Ok,
Ramon Castro
lined out to right and the lead looked secure, but then
Carlos Gomez
, who is hitting .417 since his call-up, singled to center.
Carlos Beltran
came to the plate in the unusual role of pinch-hitter for
Burgos-Burgos
and walked on six pitches to load the bases. Ok, hands up, who was thinking about Game One of this series? Especially when Dempster walked
Endy Chavez
thereby allowing a run to score.
What was going through Sweet Lou's mind at that point? Suicide? Fire bombing the bullpen?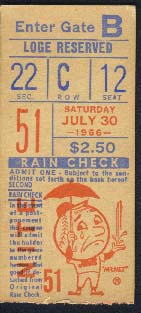 Sudden rainout might have saved the Cubbies?
Dempster remained in the game to pitch to
Ruben Gotay
, likely because with Gotay's .217 batting average you're willing to take the chance on a double-play grounder to end the game.
But no! Gotay shocks and amazes by singling to left field to drive in Gomez and suddenly it's 5-3 with the bases still loaded.
Then it's time for a little bullpen alchemy and
Scott Eyre
comes in to replace Dempster.
"I didn't do my job today,"
said Dempster in what was likely the understatement of the baseball season. "
I put (Eyre) in a tough situation there, having to come in trying to save my garbage. And it sucked because we could have got out of here with a split and won a game and gone home. And to have some negative feelings after a game like that, when everybody played so well ... We've just got to keep our heads up and go play a good game (today) and leave this here."
No matter.
David Wright
slaps an RBI single and it's 5-4.
Now blood is in the air. It's like they've been dumping chum in a pool full of sharks for the last 30 minutes in preparation of throwing
Dusty Baker
in head-first.
And then Carlos Delgado, who walked to give the Mets the win in Game 1, singles in both Chavez and Gomez and the Mets win, humiliating the Cubs, shocking the fans and sending Shea in mid-May hysterics.
*****
You can say alot of last night's victory.
"I don't know,"
Sweet Lou said.
"I'll be honest with you. I'll tell you the truth. These guys got to do it. I don't know what else to say."
This is the baseball managerial equivilent of saviour?