Seeing as how Metsradamus already has his
Quarter Poll Grades 2006
(to which I would only add, not very visionary, giving out grades
after
the first 40 games have been played - where were you in January,) I've been forced to rewrite my entire column and come up with something different. So with little else to say, I thought I'd let the Mets say it for themselves. Thus, here are my
Top Ten Mets Quotes for the Season To Date
. I will admit however that rather than undertake the Gargantuan task of culling the internet for Mets quotes all evening I took the shortcut and merely used quotes quoted herein since the Spring.
So without further ado,
10.
"I just voiced my opinion and I was thrown out. I thought the ball was low. You say your little piece and the umpire doesn't want to hear it and he throws you out of the game."
- Willie Randolph on getting tossed from a game for the second time this season. It was a close race last season between which would be happen first, Willie's first ejection or Jose Reyes' first walk. This season, they've both stepped it up a notch.
9.
"Put it this way: I'm a friend not only when you're doing well, I'm a friend when you're not doing so well,"
- Carlos Beltran said of the fair-weather friendship some Mets fans appeared to have with him early in the season.
8.
"I don't listen to nothing (from) the fans. I don't care. They don't pay ... me."
- Jorge Julio on booing at Shea.
7.
"I'm certainly disappointed,"
- Aaron Heilman, upon learning he'd been demoted moved from the starting rotation to the bullpen in the Spring.
6.
"I need to have my legs in good shape. Without a leg, there is no arm."
- Pedro, preaching the gospel of the human anatomy earlier this Spring.
5.
"He was crying when he came in,"
- Sandy Alomar on Victor Zambrano's reaction to the Mets' happiest moment of the year.
"The pain had to be extensive."
Certainly not on par with the pain he's inflicted upon those who've watched him pitch when he's "healthy".
4.
"Hamstrings are very funny. Very mysterious,"
Willie Randolph observed about Carlos Beltran's hammies, the wisdom of all his cosmogenist's years in baseball finally coming to fruition.
3.
"You want to charge, you charge. But don't bring your bat out there. I wasn't scared anyway."
- Pedro on mound-charging etiquette following Jose Guillen's thwarted and threatened move at Pedro for being hit twice in one game, thrice over two.
2.
"I'd rather be lucky than good."
- Billy Wagner, following the Mets Home Opener Victory to start the Mets a perfect 1-0.
1.
"It was fans inspired to express their excitement in a song about this year's team, and we thought it was a pretty good effort,"
said chucklehead Dave Howard, the Mets' executive vice president of business cockups and operations, of the new song,
Our Team, Our Time
unveiled earlier this season before mercifully disappearing.
"It was a pretty cool song."
And in honour of that ridiculous song, due to popular demand, I will once again post my own version of what should be the new Mets theme song...
Telephone Call From Shea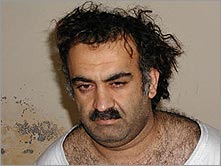 All night long we sing this song
on the broken glass
of the bottle of vintage Mets
we dropped from the airplane flying overhead,
as Jorge Julio mops up again.
Some nights we get Pedro in a glass,
shots of Wright and Reyes on the side
feeling large and wonderful,
the fat man who never pays the bill,
and can't squeeze his ass
into those tiny box seats.
I got a telephone call from Shea
the Mets are gonna to win today
who knows, who knows,
if it's just the third base coach
waving another Castro home
just to get thrown
out again.
Will you sell me one of those tickets
if I shave my head into oblivion
singing and chanting
the newest Mets song
as though we were wonderful all along?
All game, all gone, we sing this song
on the broken glass
of the bottle of vintage Mets
we dropped from the airplane flying overhead
as the Mets lose to the Braves again.
Get me out of hell on the number seven
never trust a team that inflates your dreams
only to puncture them again.
I got to wear out Mr Met
with a baseball bat
and a cigarette
the days are not cloudy anymore.
I got a telephone call from Shea
The Mets are gonna win today.
The world is gonna turn up sevens.
(
ripped off
inspired by Tom Waits'
Telephone Call From Istanbul