"I don't have good luck."
Jorge Julio, unveiling the cause behind his Mama Cass-like 19.84 ERA
It took a face like this to scare Mets batters into submission
The Mets, like a runaway train, were looking for consecutive win number eight. Tomo Ohka, winless in five decisions at Shea was looking for win number one. Somewhere along the way like a baseball version of Freaky Friday, the two sides changed realities; the Mets becoming sloppy and failing to score first in a game for the first time all season, Ohka becoming a competent pitcher, throwing seven innings of five hit ball, allowing only a single earned run and winning his first game of the season as the Brewers embarassed the Mets 8-2.
Jorge Julio completed the comedy portion of a disappointing evening by performing his
"I'm an Unlucky Dog
routine for the remaining embers of a dying record Mets crowd of 55,831, allowing three earned runs, two hits and hitting a batter in a lone inning of a decidedly self-deforming performance.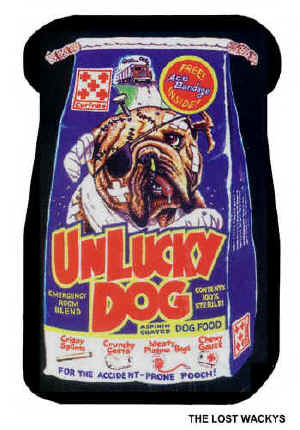 Jorge Julio, fulfilling the prophecies of jackals...
I mean, yes, we thought the Victor Zambrano for Scott Kazmir trade was a howler but Kazmir isn't exactly setting the Majors on fire at this point with his 4.82 ERA in 3 starts. Compared to getting a
second
version of Armandogeddon from the Orioles in one decade (my aren't we gullible) in return for Kris Benson, with his Leo Mazzone-improved 1.93 ERA in two starts, Zambrano for Kazmir is looking like a steal.
But one gets the feeling we'll have Jorge Julio to kick around all season so no sense in using up all our cheapshots and derisive metaphorical chanting before the season is even two weeks old.
Instead, we can examine how Steve Trachsel performs on seven whole days of rest.
Against the lowest scoring team in the league, Trachsel gave up nine hits and four runs and hit two batters for emphasis, neither of which precipitated a Jose Guillen meltdown or cleared the benches. Ok, not an apoplectic performance but as Rutherford once told Joel Goodson,
"You've done a lot of solid work here, but it's just not Ivy League, now is it?"
Problem is, they're
laughing at us
in Milwaukee now. Well, maybe not laughing. They live in Milwaukee after all and there's only so many seconds of free time before the next bratwurst is shoved into the gob and all clear thinking ceases yet again.
"Tomo was nails today,"
giggled Brewers manager Ned Yost.
Not only did he shut down the Mets, but doubled in the winning run in the 4th inning when he faked a bunt and then pounded the ball over Xavier Nady's head in right field for an RBI double, his first base hit of the season.
The game wasn't always in the bag. In fact, as early as the second inning the Mets were threatening to blow yet another game wide open. This time the bats weren't quite hot enough.
With one out and two men on, Nady hit a comebacker to Ohka that should have resulted in an inning ending double play. Instead, Ohka, proving he's human after all, threw wildly to second base and the Mets suddenly had the bases chalked with only one out. That brought Ramon Castro to the plate and although he managed a sac fly to score tie the game at 1, he didn't, like his colleagues in games previous, clear the bases with a double or a game-breaking triple and that, with Trachsel waiting on deck, proved to be all the difference. The early turning point in a game the Mets were bound to play at least once in the first two weeks of this young season, a game that made up for all the lack of miscues in games previous.
But let's be honest. If someone had predicted an 8-2 start to the season, we'd have taken it without question. This isn't the end of anything, this is the natural progression of probability righting itself. These Brewers after all, won five in a row to start their season before having a similar pair of moments against the Cardinals and now, with two games split down the middle against the Mets, are tied for first in the NL Central with a 7-4 record.
This isn't a loss to sweat. Trachsel isn't going to be shipped by Bobby Valentine to Class AAA for his performance, for example although giving up a double to Ohka must stick in his craw. The wheels aren't coming off the dream team just yet.
Batting second...Anderson Hernandez?
Yes, a swinging bunt single in the first inning but this is a guy hitting .176. What ever happened to Carlos Beltran getting his shot? And speaking of Mr Hernandez, we had a chance to listen to him expound on his season to date in the pregame Mets Extra programme and frankly, if he played second base like he speaks English, he'd be Kaz Matsui.
Today, the Mets will try to secure their fourth consecutive winning series as Brewers ace Ben Sheets makes his first start of the season after a stint on the DL. Sheets will face Mets new phenom, Brian Bannister who has pitched 13 innings in his big league career and allowed his opponent to score in only one of them.
And look, if things seem glum for a day, so what. Even super closer Mariano Rivera
blew a save
yesterday.